Welcome to Daphne Bazaar!
An online store which provides you wide variety of Semi Precious Jewelry Products
A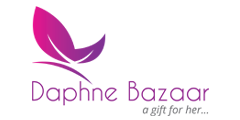 mazing range of products showcased under one roof – Bracelets, Earrings, Pendants, Tops, Dangles, Necklaces, Anklets, Rings, Mangtikka, Garlands and much more.. embedded with Jerkin, pearl, Kundan, Polki, Coral, Turquoise, Onix, crystal, jade and shells. All jewelry products are almost handmade.
In order to meet the international standards we keep track of the trends, tastes, styles and demands to offer our customers the best.
Daphne Bazaar can be called a truly Indian brand with its products being distributed in more than 50 towns in the country.
Daphne Bazaar is committed to provide customer with Best F

acilities
Transparent Stock details letting customer know product availability before they order.

Wide range of product collection to view, select and order online.

Packaging solution – Beautiful jewelry boxes as gift pack.

Hassle free delivery at customer doorstep.

Easy order tracking.
Store Address
Unit No. B101, North Ex Mall,
Sector-09, Rohini, Delhi, India 110085.
Mobile: 08826215307, 9212374915. Email Id: Contact@DaphneBazaar.com
Store Address
B-2/73, Sector-16, Rohini,
Delhi – 110085.
Contact Numbers: 011-27899260. Mobile: 08826215307, 9212374915.
Know more about us
Like Us on Facebook 
Follow Daphne Bazaar on Twitter

 
In addition, our online wholesale jewelry store also supplies jewelry raw materials – freshwater pearls, pearl beads & strands, coral beads, turquoise, shell beads, jewelry class fittings, jewelry making kits. Kindly reach us at Contact@DaphneBazaar.com